Bitcoin (BTC) fell below the critical $52,000 support level yesterday, reaching a low of $50,360.
Bitcoin is on a downward trend, having dropped 8.91 percent in the last seven days. At the time of writing, the price of Bitcoin has risen to $52,888.71. Is Bitcoin in the midst of a staged bottom? Will Bitcoin's price continue to fall?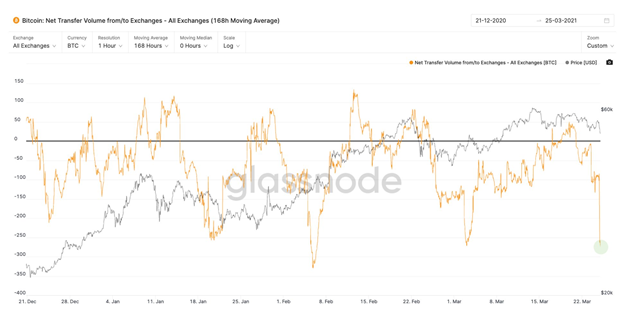 As of 12:00 UTC, more than 1,365 BTC had been removed from cryptocurrency exchanges, according to Glassnode. Since the beginning of the year, this is the highest level of Bitcoin exiting an exchange in a 24-hour period.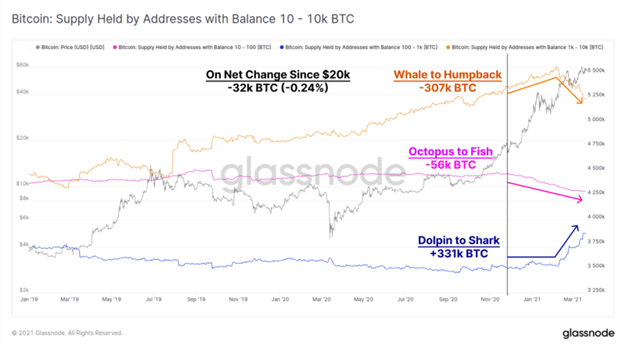 Using on-chain analytics Larger wallet balances have also shifted around the denomination, according to Glassnode.
Glassnode reported a 56K BTC decrease in "octopus to fish" addresses (addresses holding tokens between 10 and 100 BTC). The cryptocurrency holdings of whales to humpback whales (ranging from 1,000 to 10,000 BTC) have decreased by 307K BTC.
Wallets holding 100 to 1,000 BTC (Dolphin to Shark) have, on the other hand, increased their holdings by 331K BTC.
Despite the fact that giant Bitcoin whales have reduced their stakes, dolphins/sharks are still actively buying BTC as a hedge against inflation, despite the trillions of dollars in monetary stimulus measures injected into the global financial market by central banks around the world in the last year.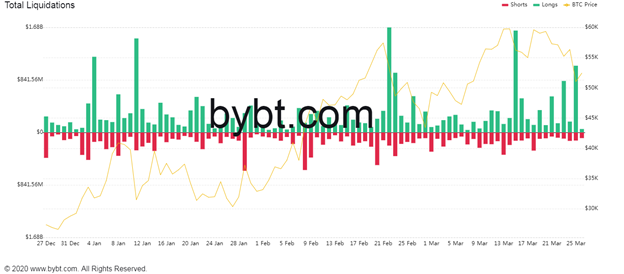 According to Bybt data, despite the fact that the Bitcoin price has been declining since March 18, when it was trading at around $60,000, liquidity has not decreased. The volume of long positions is greater than the volume of short positions. The volume of "longs" reached 2.23 billion yesterday as the BTC price fell to around $50,000, compared to 190.36 million for "shorts." This means that the vast majority of people continue to believe that the price of Bitcoin will rise in the future.