The Total Value Locked (TVL) on Decentralized Finance (DeFi) systems has dropped below $200 billion, down from $230 billion in late April.
While the DeFi ecosystem's decline mirrors a larger trend in the digital currency ecosystem, the DeFi collapse, when contrasted to the traditional financial environment, provides greater information about investors' preparedness to adopt crypto investment and passive income production.
According to DeFiLlama, the DeFi TVL was valued at $199.31 billion at writing, up 0.3 percent in the previous 24 hours. In May, it arguably began pessimistically as investors weighed the expanding number of protocols that may benefit them in the long run.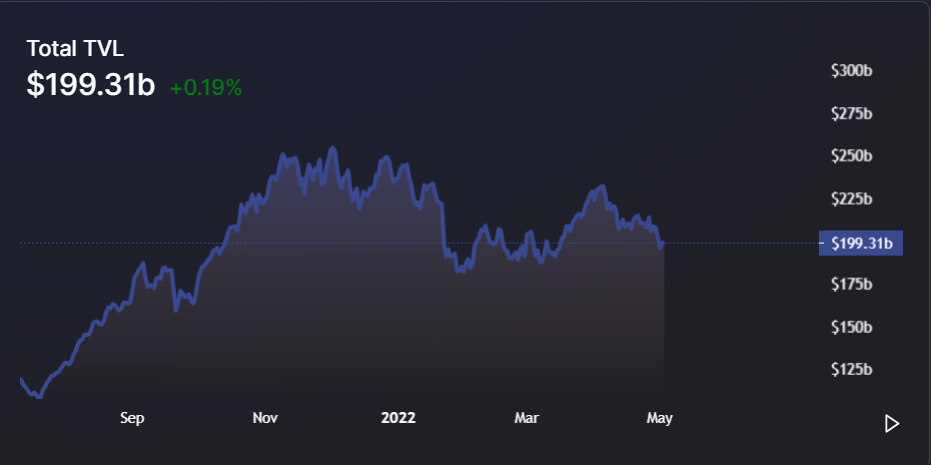 Curve Finance, the largest DeFi platform with an $18.84 billion TVL, has dropped 10.45% in the last month, with lending platform Aave taking the heaviest impact with a more than 20% drop in the same period. However, according to statistics from DeFiLlama, the Terra-based Anchor Protocol emerged as the most robust DeFi platform, growing its TVL by 4.96 percent in the previous month.
Investing money in most DeFi protocols generally keeps such capitals inert, preventing investors from taking advantage of unforeseen possibilities. However, non-fungible Tokens (NFT) are one of the most popular offshoots of the blockchain ecosystem that have piqued the curiosity of investors across the board.
With investors rushing to get their hands on prominent NFT collections like the Otherdeed to the Otherside launched by Yuga Labs, the startup behind the Bored Ape Yacht Club (BAYC) collection, over the weekend, the likelihood of investors withdrawing cash from other DeFi platforms is strong.